Fast and flexible for clean production
The broom trolley with system
Imagine ... just before closing time: you just want to quickly clean your workplace. However, the utensils are far from being found. Neither in the cleaning cabinet nor in the other departments. Trouble is inevitable here. Such unnecessary search times cause chaos and cost not only nerves, but also money.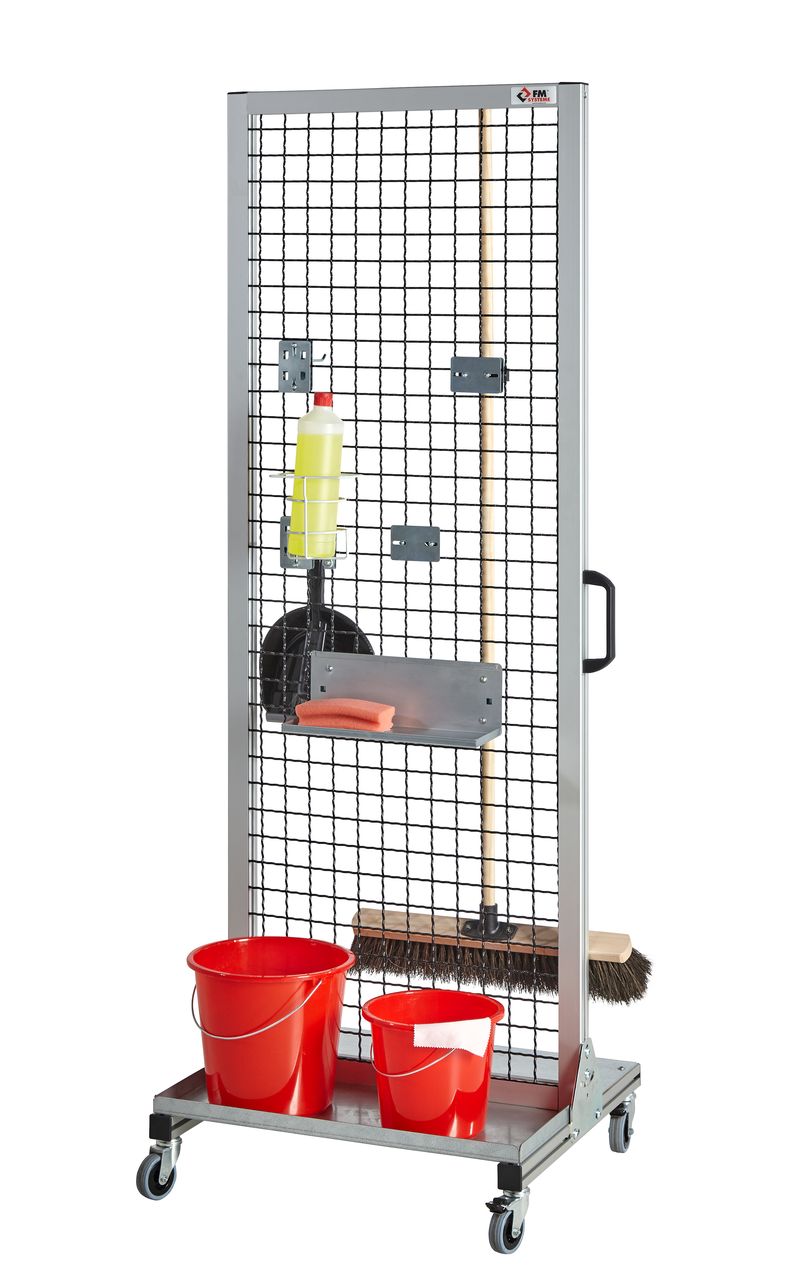 A cleaning station for each department
The solution: the broom trolley from FM Systeme. It is configurable for all challenges and can be used in the blink of an eye in your production. To avoid confusion, each department and each machine place receives its marked broom trolley. Here you can work with proven color marking systems. An assignment with numbers works just as well and is often cheaper. During working hours the broom trolley is tidied up on firmly defined parking spaces. This provides extra security in your production. If necessary, everything can be found quickly.
Individually for consistent cleanliness
With the broom trolley, the word "standardized" stands for fast configuration with flexible equipment. For maximum adaptation to your needs. Built from a mobile base frame, you can choose from various elements for individual assembly. Whether broom holder, shelves or hooks - to create your personal cleaning station - everything is there. This simple concept means for you: one system, many optimal solutions.
Mobile cleanliness for more security
Marked pitches give you a systematic way of working. Long search times are therefore a thing of the past. The mobile way of using the broom trolley means that you can carry all your utensils ergonomically right to your workplace. This ensures user-friendly operation without unnecessary travel. The lost search times and routes increase your productive working time in a pleasant working atmosphere. Frustration and anger are no longer part of the workday. The concept enables fast configuration to suit specific challenges. In addition, the design facilitates the maintenance of clean workplaces and their environment. This guarantees a secure production process with no downtime. A check of missing aids takes place with eye contact and can be done by all employees. Safety through order and cleanliness are in the foreground.
Contact us under +49 7262 6186-0 or send an e-mail to vertrieb@fm-systeme.com. After receiving your requirements, we will like to create a meaningful quote.